Happy Wednesday!  My schedule slowed down from last week so I was able to finish another (the last) quilt block in The Patchsmith's Sampler Sew Along.  There are a total of 50 blocks, and I've been focusing on the pieced ones lately.  Each one has been fun to make – from picking out the fabric to the final press.  Here are the latest three blocks.
I have skipped quite a few blocks as life got busier, but I'm so happy with this collection.  I don't know if I'll make the rest of them, but here's a look at my collection.
You can purchase the paperback version of The Patchsmith's Sampler Quilt Blocks at Amazon, or you can buy the pdf version here.  All quilt blocks finish at 6″ square, and the instructions are excellent.  I could make little quilt blocks every day, if I had the time.  It's my happy place!
Yesterday, I finished one of the pouch kits that I received last year from Sew Lux Fabric.  I signed up for their pouch club in 2018, and I have five more to make. This is the Double Dresden Pouch.  I think I'm getting the hang of these pouches.  I love the Dresden fans and they really shine with the fabric, Sunnyside Up by Corey Yoder for Moda Fabrics.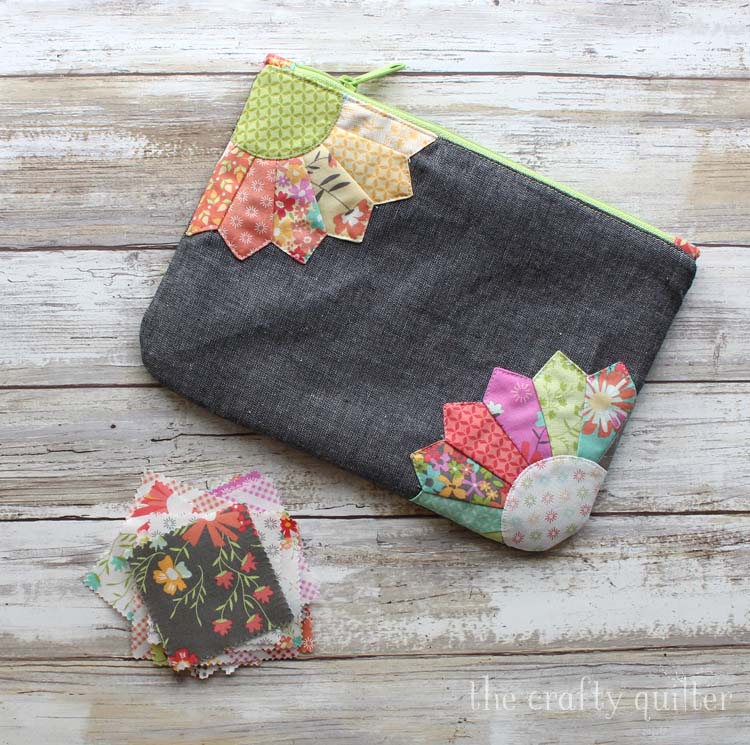 Right?  So fun and functional!  Catching up on pouches is one of the things on my 2019 UFO & WIP list.  I'm so glad I got one finished before the end of February!
The link up for February's UFO & WIP challenge is going strong.  You have until this Saturday, March 2, at midnight to add a picture of your finished project and be entered into this month's giveaway.
Besides watching Netflix and Amazon videos, I've been checking out the video classes at Bluprint.  I forgot how much they've grown since they merged with Craftsy.  Now they have everything from gardening to exercise, and tons of cooking classes.  Plus all of the great quilting content is still there and more.  I recently watched Fuel Your Body, Feed Your Soul and I'm in the middle of watching The Everyday Gourmet:  Making Healthy Food Taste Great.  I'm trying to expand my healthy cooking routine and hopefully lose a few pounds before the weather warms up.  I'll let you know how it goes!
How's your week going so far?  The weather has been cold and wet in the Bay Area of California.  It's a good excuse to stay inside and sew (and watch videos).  By the end of the week, I need to make decisions on shower doors, window treatments and area rugs.  This is NOT my happy place – too many decisions!  I'll be scouring the internet for ideas for the next few days.  Only 4-5 weeks to go and we'll be able to move back into the bedroom side of the house (that includes bathrooms which I miss immensely).
I'll be working on a tutorial for my Sew Happy Mini Quilt to share in March, and this Sunday is Sew Thankful Sunday.  Stay tuned and happy quilting!