If you love Hal­loween as much as I do I'm sure you're going to be excited to see this new fab­ric col­lec­tion by Carina Gard­ner for Riley Blake Designs.     It's called Eek Boo Shriek and it's abso­lutely ador­able.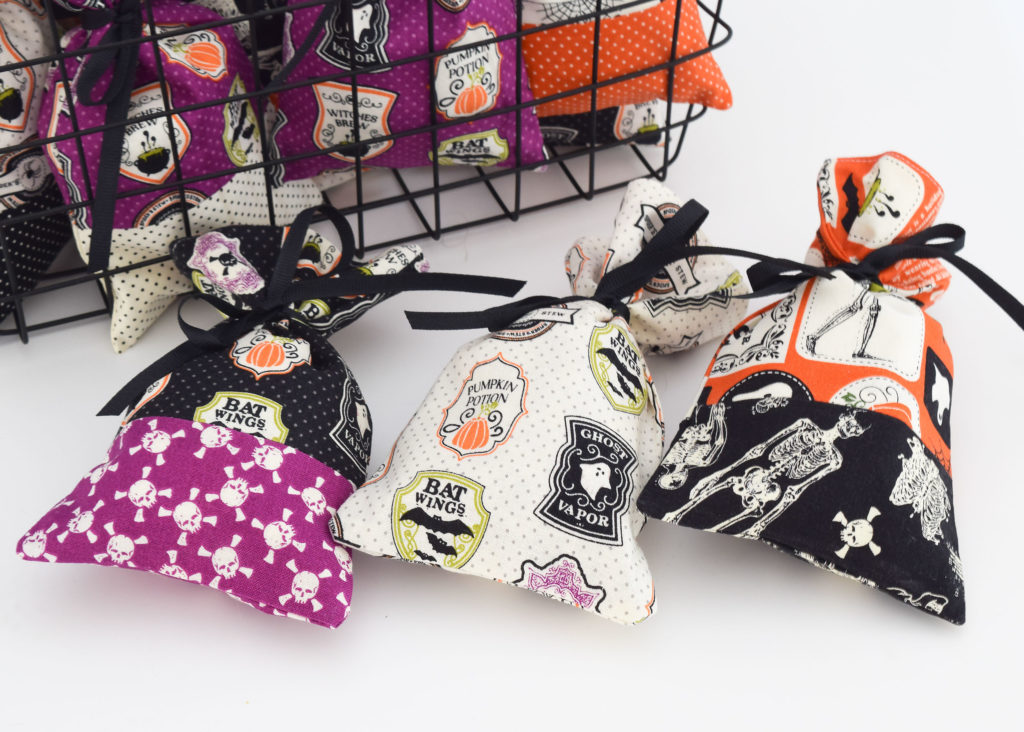 Carina has had a blog tour hap­pen­ing over the last few days and the oth­er girls have made some awe­some (and cute) things.   Check out their posts to see what they've been up to!
31st July — Kari from That's Sew Kari
1st Aug — Aman­da from Mater­i­al Girl Quilts
2nd Aug — Shar­on from Daisy Cot­tage Quilt­ing
3rd Aug — Vicki from Orch­id Owl Quilts
4th Aug — Me!
Hal­loween is a bit hit and miss here in Aus­tralia.  It's def­in­itely not a big thing but, I have noticed there are more and more people join­ing in the fun each year.    I like to think I'm edu­cat­ing every­one in my neigh­bour­hood one Hal­loween at a time by going com­pletely over­board with house dec­or­a­tions.   I get so excited just think­ing about what a fun night it is and look for­ward to it every year.    This year I'll have a fun new Boo! Mini Quilt (aka Hal­loween ban­ner) and a cauldron full of these ador­able little treat bags ready for when the neigh­bour­hood kids come Trick or Treat­ing.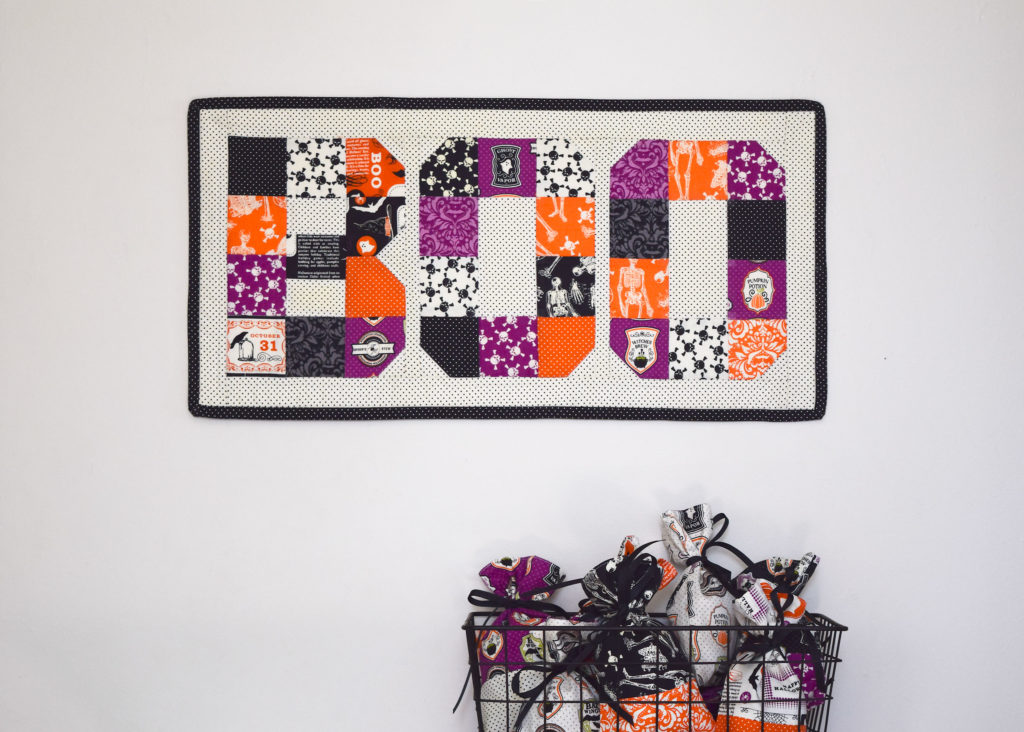 If you would like to make your own Boo! Mini Quilt you can grab a copy of the pat­tern from my shop by click­ing here.
I've made these little treat bags before with little bunny fab­ric to use as East­er Treat bags and I thought that they would like just as great in Carina's spooky Hal­loween prints.   They are so easy to make that I'm sure you will be able to make a whole bunch of them in no time at all.
Here's what you will need to make one 4″ x 7″ treat bag:
2 rect­angles, 2 1⁄2″ x 4 1⁄2″ for the bag exter­i­or
2 rect­angles, 5 1⁄2″ x 4 1⁄2″ for the bag exter­i­or
2 rect­angles, 4 1⁄2″ x 7 1⁄2″ for the lin­ing
16- 17″ piece of 1⁄4″ rib­bon
coordin­at­ing thread
a small pair of scis­sors
a chop­stick or corner turn­ing tool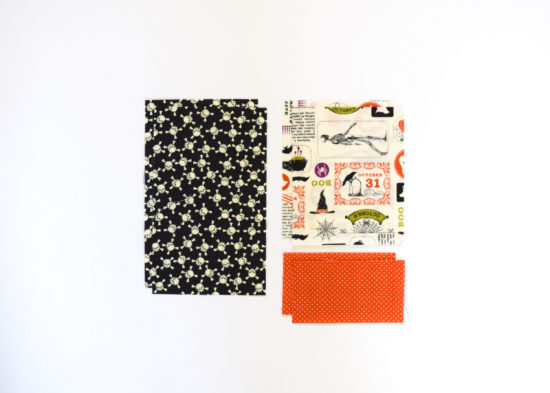 1. Using a 1⁄4″ seam allow­ance sew the 2 1⁄2″ x 4 1⁄2″ rect­angles to the of the 5 1⁄2″ x 4 1⁄2″ rect­angles along the 4 1⁄2″ side to make the bag exter­i­or pieces.    Press the seams open.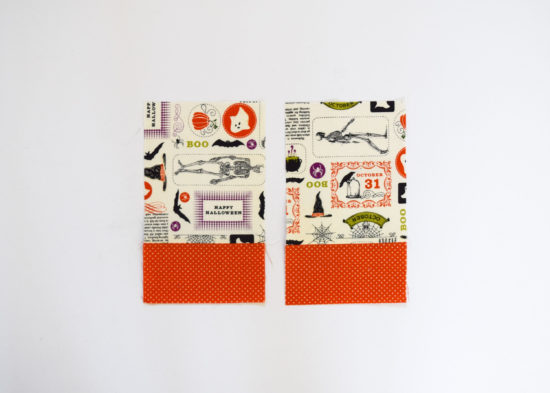 2. Sew the 4 1⁄2″ x 7 1⁄2″ lin­ing rect­angles to the oth­er end of the the 4 1⁄2″ x 5 1⁄2″ bag exter­i­or rect­angles.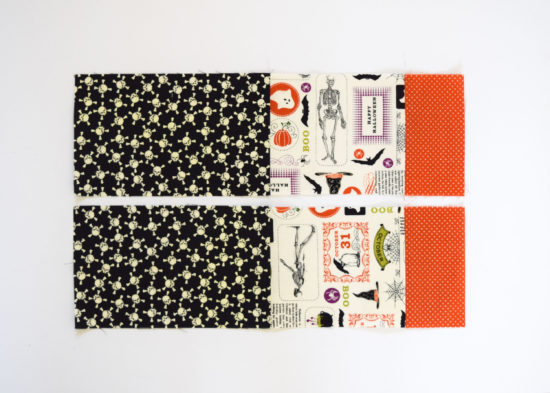 3.  Place the two pan­els togeth­er with right sides togeth­er mak­ing sure that the seams are all cor­rectly aligned.    (That's tricky to show in a photo so my seams are not aligned in the photo below).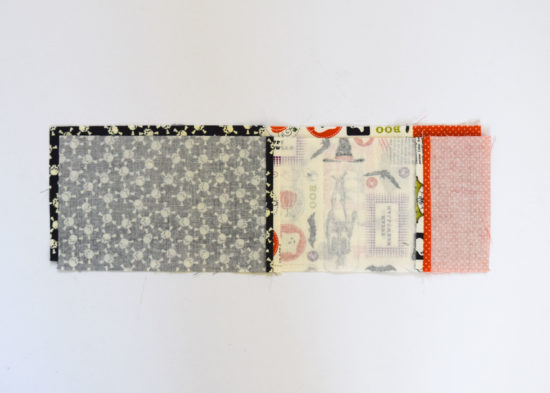 4. Leav­ing a 2″ — 2 1⁄2″ gap on the short side of the lin­ing pieces sew around the pan­els to join them.  Back­stitch at the start and end.   Trim the excess fab­ric each corner.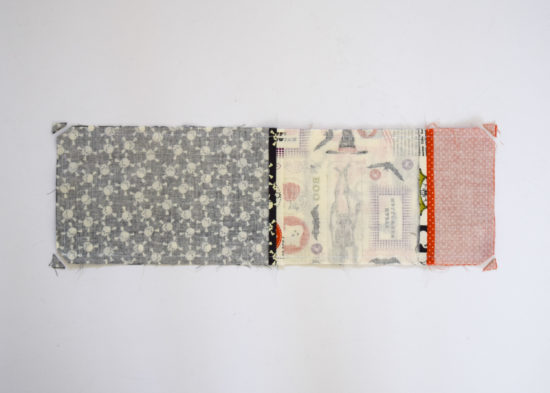 5. Turn the bag right side out through the gap in the short side of the lin­ing pieces.  Use a chop­stick or corner turn­ing tool to make sure that the corners are turned out com­pletely.    Fold the seam allow­ance in the gap in the lin­ing pieced inside the bag then give it a quick press and sew the open­ing closed with coordin­at­ing thread.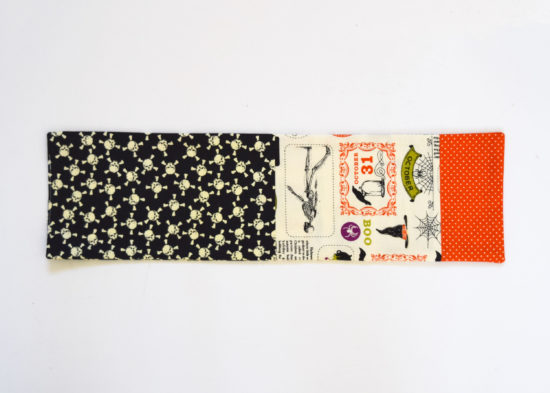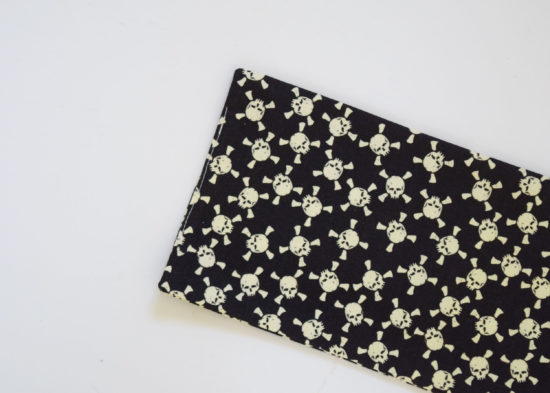 6. Push the lin­ing piece inside of the bag exter­i­or to fin­ish off the bag.  Fill them up with all sorts of deli­cious Hal­loween treats and then tie them with a 16″ piece of rib­bon.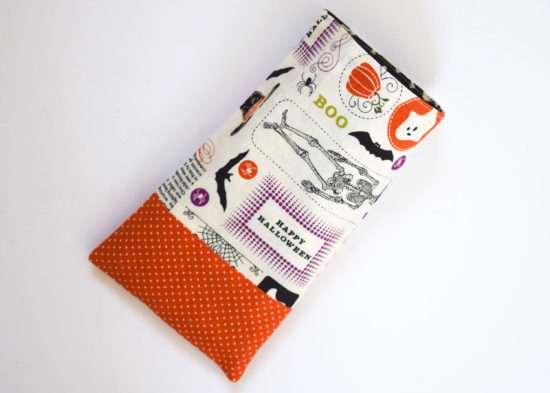 Option­al:- I like to top stitch around the open­ing of the bag using a 1⁄8″ seam allow­ance but that's com­pletely option­al.    The top stitch­ing doesn't add any func­tion­al­ity to the bag, I just think it looks nice.
They look ador­able don't they!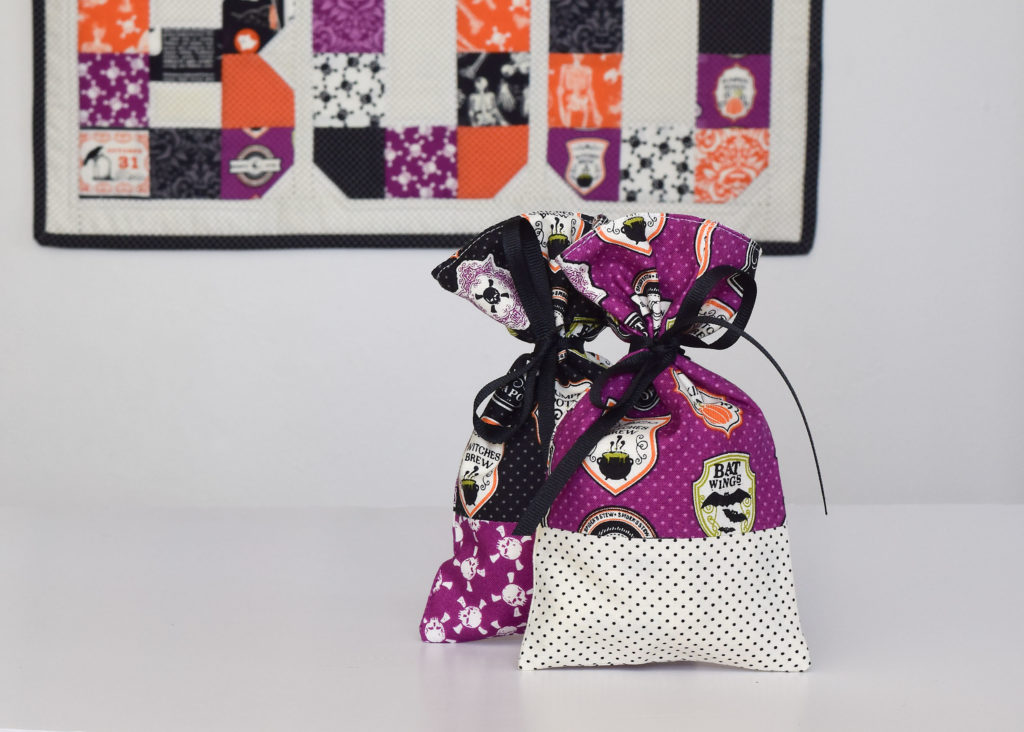 You can cus­tom­ise these little treat bags as much, or as little, as you like.   I made a couple with a single piece of fab­ric (the same size as the lin­ing pieces) for the exter­i­or and they look just as cute.   You could also make them with small squares or a bunch of strips.  The pos­sib­il­it­ies are end­less.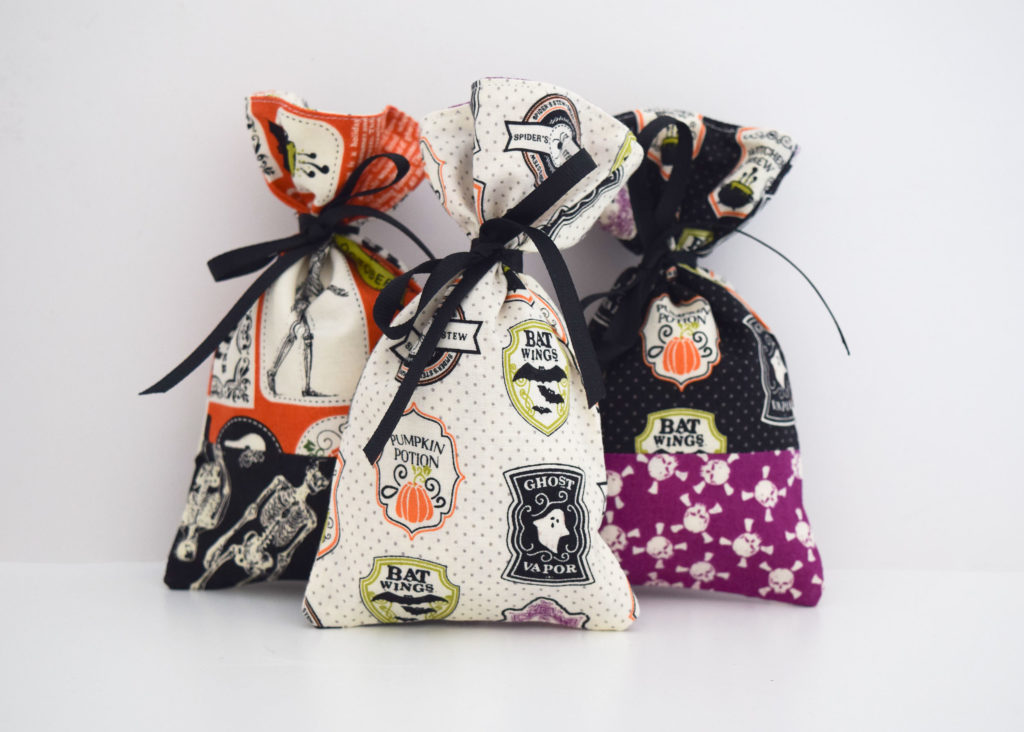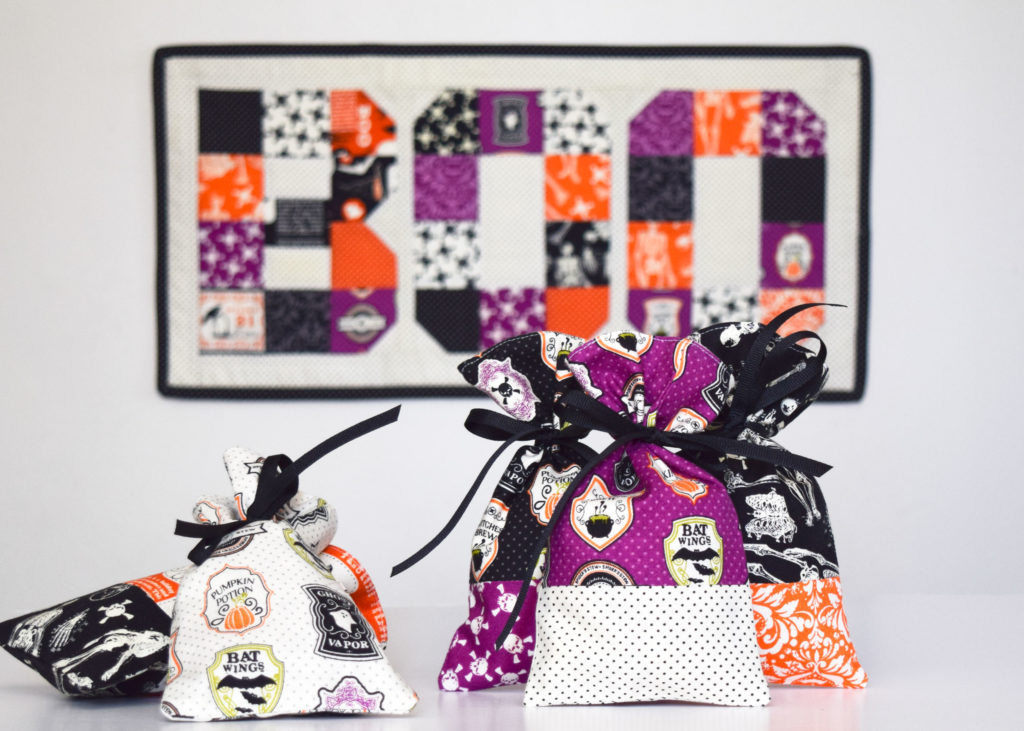 Eek Boo Shriek is avail­able in stores now.   It's such a fun fab­ric col­lec­tion and one I'm sure you will enjoy sew­ing with.
Happy Quilt­ing (I figured it was too early to say Happy Hal­loween!)